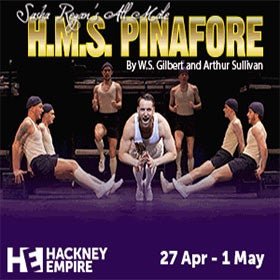 Call :phone to book directly from the theatre or Subscribe
Booking from
Friday, 29 October 2021
Booking until
Saturday, 11 December 2021
Audience Latest Reviews
Reviews Summary based on 18 reviews
General:
What to expect
Acting:
Music:
Costumes:
Story:
Lighting:
Recommendations
Anyone:
Families:
Teenagers:
Young Couples:
Theatregoers:
Enjoyable revival of a Gilbert & Sullivan work
We liked the tongue in cheek humour.
JANET, 04 Dec 2021
Real Gilbert and Sullivan
Brilliant, funny and colourful. Entertainment for all ages. Could watch it all again tomorrow 🤗
Joan, 03 Dec 2021
Gilbert and Sullivan shows are so rare and to see a super one like this was fabulous.
Great acting, singing, dancing, super clever stage sets, what's not to enjoy! First time at this theatre and so impressed with it, and the staff were lovely as well!
Kathy, 22 Nov 2021
You got to love Gilbert and Sullivan
HMS Pinafore can be enjoyed on so many levels. This production brought out the wit and humour very well. Music, 'show' and entertainment value couldn't be better
Lesley, 13 Nov 2021
A must see. A very entertaining show Good songs and acting Excellent orchestra
We liked the show. It is a very entertaining show with a good versatile troupe of actors. The lead lead actors/singers were all excellent
Michael, 11 Nov 2021
Light hearted fun
The cabin boy really stole the show but the attitude and light hearted approach will appeal to many
Gillian, 06 Nov 2021